Utah Ski Resorts

2016/2017 Opening & Closing Dates

Discount Ski Lift Tickets

Children Ski Free

Renting Skis in Utah

Utah Ski Rental Shops

Ski Planners & Discount Coupons

Utah Daily Ski Report

Why Ski Utah? An Overview

How To Plan A Utah Ski Vacation
___ Park City Info ___

Park City Ski Lodging

Park City Hotels

Park City Information

Snowmobiling, Clothing, Hot Air Ballooning

Cross Country Skiing in Park City

Snow Shoeing in Park City

Park City Child Care / Baby Sitting

Park City Sleigh Rides

Park City Snowmobiling
___ Salt Lake Lodging Options ___

Alta & Snowbird Ski Lodging

Brighton & Solitude Ski Lodging

Salt Lake Ski Lodging
Close To All 7 Resorts

Salt Lake City Hotels

Salt Lake City Hotels
Closest To Salt Lake's Ski Resorts

Utah Bed & Breakfasts
___ Utah Transportation Options ___

Rental Cars

Shuttles & Transportation

Salt Lake City Limousine Services

Driving Instructions from the Airport to the Resorts
___ Winter Activities & More ___

Salt Lake City Ice Skating Rinks & Tubing

Sleigh Rides

Snowmobiling

Ski in the Morning / Golf in the Afternoon

Helpful Info, Where to buy groceries, etc.

Airlines Serving Salt Lake

Snowbird Ski Resort Discount Lift Tickets

Utah Dining Guide

Salt Lake City Nightlife, Bars, Dance Clubs, Music

The Best Sports Bars Throughout Salt Lake City

Salt Lake Visitor Services

Free Canyon Closure Alerts To Your Cell Phone

Utah Olympic Park in Park City

Utah Olympic Oval in Salt Lake





Utah Travel Guides, Free Coupons & Hot Deals





We would like to welcome you to Skiing and Snowboarding in Utah!

Utah's Wasatch Mountains are home to six world-class ski resorts all within a 20 to 45 minute drive from the Salt Lake Valley, or if you are flying in, about an hour from the Salt Lake International Airport. Utah Ski Vacations, an abundance of beautiful sunny days, various terrains to suit everyone's needs, and quick access up the canyons, makes "Skiing Utah" a very wise choice for your next ski vacation!






The Powder
Imagine gliding down a mountain in waist-deep, fluffy, dry powder. That's Utah Ski Vacations! "Stunning & Affordable".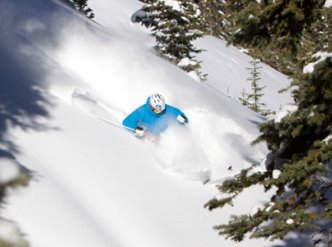 Why is Utahs Snow So Light?
The secret to Utah's unique snow is in the huge lake and its closeness to our mountain range. Storms suck up moisture as they pass over the nearby Great Salt Lake and is dropped on Salt Lake's Mountains just miles away. The light powder snow, thanks to the lakes salinity, falls en masse ( appx. 500 inches per year ) upon Alta, Brighton, Snowbird and Solitude Ski Resorts creating some of the best powder skiing and snowboarding in the world. Park City's Ski Resorts also benefit from this lake effect snow but not to the effect that the Salt Lake Ski Resorts do.

There are many reasons why we hosted the Winter Olympics in 2002, but the # 1 reason is: Utah is simply spectacular for winter sports!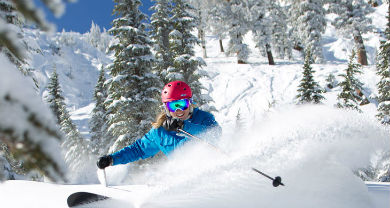 Snowbird and Alta
After your first visit, you'll say "There's nothing quite like a ski vacation at either Snowbird or Alta ski areas, with some of the driest, deepest powder found anywhere". Both resorts are up Little Cottonwood Canyon which is serviced by UTA buses. There are pickup locations throughout the city, but for complete flexibility your best bet would be to rent a car.

Alta is the ultimate skiers' ski mountain! It's a big, fun, no-frills resort with spectacular scenery, breathtaking runs and air so crisp, just drawing a breath becomes a novel experience. With over 2,200 acres of skiable terrain and a vertical drop of 2,020 feet, Alta offers plenty of excitement for advanced and expert skiers. And lift tickets may well be one of the last great bargains anywhere. For the 2016 ski season, an adult full day ticket (9:15 a.m. to 4:30 p.m. daily) cost just $89. Discounted lift tickets cost $83. Alta may not, however, be the best choice for beginners. At least 75 percent of this spectacular terrain, located in the Wasatch-Cache National Forest, is rated intermediate or expert. And snowboarders should note that Alta is one of the last major resorts in the world to deny access to snowboarders.

For familes and resort aficionados, Snowbird, located adjacent to Alta, may be the better choice. With even more terrain than Alta, Snowbird also offers luxuries missing at Alta, such as shops, sophisticated restaurants and expensive lodging. With a vertical drop of 3,000 feet, a peak elevation of 11,000 feet and more than 500 inches of annual snowfall covering 2,000 acres of skiable terrain, it's almost impossible to run out of new trails to try at Snowbird. Adult lift tickets, by chair or tram are $95 for the 2016 ski season. Discounted lift tickets cost $76. 2 Out Of 5 Days Passes to Snowbird $47.00 Discount. $ 196.00 at the resort or only $ 149.00 here. Discount Lift Tix

Snowbird recently added more attractions for snowboarders, such as a new terrain park and half pipe. And for beginners or families, the resort's ski school and children's programs are excellent. Although accommodations and lift tickets are far from inexpensive, Snowbirds steep terrain and deep, dry snow are virtually unparalleled.

But the excitement and sheer visceral joy of skiing a huge mountain with a scant handful of other hearty souls makes it well worth any risk. After all, how often do you get to ski for ten or twenty minutes without seeing another soul, all the while surrounded by awe-inspiring magnificence?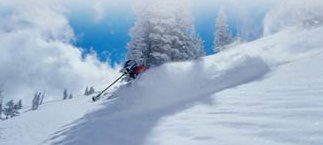 Park City Ski Vacations
Park City Mountain Resort, America's Largest Single Ski And Snowboard Resort, located in the heart of Park City, Utah, only a 35 minute drive from Salt Lake City International Airport. Park City is home to over 7,300 skiable acres with a good mix of beginner, intermediate and advanced terrain.

With over 300+ trails, 38 lifts, seven terrain parks, 14 bowls, six natural half pipes, one super pipe and one mini pipe, plus many diverse ski-in/ski-out and village adjacent lodging properties, Park City is an easily accessible, world-class mountain destination located in an authentic & historic western town.

During Summer 2015, the Resort undertook the largest resort improvement project in the history of American skiing, one that linked it with neighbor Canyons Resort to create the United States' largest ski area. Park City bustles with activities year round with two distinct base areas, nine hotels, thrilling family adventures, and more than two dozen restaurants.

For hotel rooms in Park City, here is a complete list with their official websites of every hotel in Park City "Official Websites of Every Park City Hotel". Travelers have been experiencing the fact that to get the best hotel rates and vacation package deals, you reserve with the hotel directly. You don't have to go to those advertised 3rd party sites any longer. Think about it, someone has to pay for all of their world-wide advertising. Don't let it be you. Save Money! Book Smarter, Book Directly. We have been telling our world-wide visitors that for years!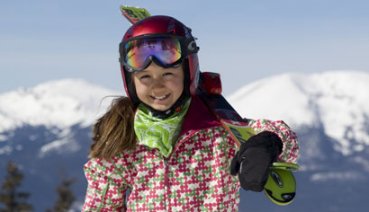 The Beauty and Diversity of Park City Utah - A 90 Second Video
View on You Tube - Only 90 Seconds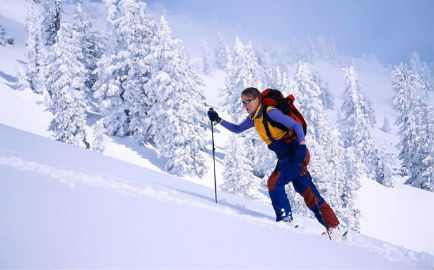 Deer Valley
Many fans of Utah skiing would never consider skiing anywhere other than at Deer Valley. They cite its impressive 3,000 foot vertical drop, its 1,750 skiable acres and, perhaps most importantly, its reputation for high quality customer service and exceptional restaurants and accommodations. There is, however, a price to be paid for all this impressive luxury. Deer Valley may well be one of the most expensive resorts in the world.

Adult lift tickets for the 2016 ski season are high at $120.00 per day. But, Discounted lift tickets will be available. But Deer Valley also restricts the number of skiers allowed on its slopes on a given day -- a remarkable and admirable innovation that may well make the steep price worthwhile. If only other pricey - and overcrowded -- Rocky Mountain resorts would follow suit.

Chosen as the site of the combined slalom, slalom, mogul and aerial events for the 2002 Winter Olympic Games, Deer Valley is currently expanding its facilities and constructing venues for the various events. Since 1998, Deer Valley has invested nearly $25 million in improvements, including construction of new runs, installation of a new gondola, the addition of a new high-speed quad lift and the opening of eight new, extremely challenging chutes.

As with Alta, snowboarders are not welcome at Deer Valley. Gourmet diners and those with a taste for luxurious shops and accommodations -- and bearing fat wallets - are quite welcome, however. Deer Valley is one of the few resorts anywhere with a staff so focused on service that attendants actually offer to help you unload your gear before parking.

Ski in the Morning / Golf in the Afternoon
It's True! It Happens. Not often, but it happens. While you are enjoying your Utah ski vacation, our Salt Lake valley golf courses are typically open 11 months a year. During the winter months it is not unusual to have warm afternoon temperatures here in the valley, while our mountains are packed with snow. So if you're coming to ski, come on out, rent a set of clubs, and enjoy.


Utah's Daily Snow Report - November to May - Utah's Snow Totals & Ski Report


New & Exciting!
Free Canyon Closure Alerts To Your Cell Phone


Utah Travel Guides - Free Coupons & Hot Deals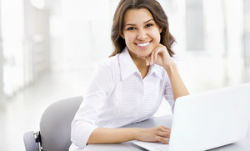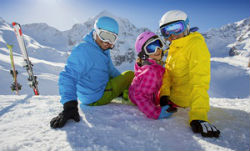 We would like to thank you for visiting our Utah Skiing online directory and hope your upcoming Utah winter vacation is your best ever.

Please feel free to contact us for personal assistance.


Visitors



Copyright 2016 Utah Skiing.org